The world today is in complete awe of blockchain that can be best described as a distributed, decentralized, and often public, digital ledger that records a series of transactions across different computers. No wonder, this evolving technology has set benchmarks that seem hard to replicate even in the future ahead of us. The best thing is that more spectacular developments that seem hot on the verge of paradigm-shifting innovations.
In this blog, we will be reading about the amazing benefits of blockchain before we proceed on how to Hire best blockchain developers to access top-class blockchain development services.
Theoretical Immutability
Theoretical immutability stipulates that the records that are stored on the blockchain cannot be altered, partially or completely. This is simply because each block apart from the genesis block has a parent block on the blockchain. It means any attempt to alter the information stored on the blockchain will not be allowed as the hash functions will be misaligned. The false insertion will be automatically marked invalidated and discarded.
Due to these characteristics, blockchain is steadily becoming the way for the future for a series of security protocols. In today's era of hackers and cybercriminals, a seamless technology like blockchain that is tamper-proof is definitely an interesting concept for participants in the digital space. No wonder, the world is embracing blockchain development services today like never before.
Eliminating the Cost of Trust
The cost of trust in mainstream finance is an important aspect of the payment system. Third-party authenticators such as clearing houses and banks are required to ensure that everyone is playing fairly by the rules. These third-party services levy transaction charges that form a significant part of the total cost of a transaction. The requirement for a third-party authenticator is eliminated with blockchain and transactions are between payer and payee only.
It is because of these and many more reasons that blockchain development services, especially those powered by Cloud Analogy, the best Blockchain Development Company in UK, are high in demand.
The Growing Blockchain Community
In recent years, the blockchain community as a whole is growing at an exponential pace not only in size but in legitimacy as well. Today, blockchain technologies have emerged as one of the most empowering technologies in the same category as machine learning, the internet of things (IoT), and artificial intelligence (AI).
Across the world, numerous blockchain conferences are held regularly in different with thousands of participants. It is no wonder that blockchain technology has rightly established itself to orchestrate the evolution of the new digital age of faster transactions and greater connectivity.
Are you looking for Blockchain developers for blockchain-based application development? Choose Cloud Analogy, the best Blockchain Development Company in UK, to Hire best blockchain developers and access out-of-the-box blockchain development services now!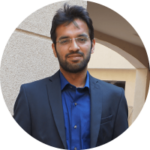 Chief Technical Officer (CTO)
"Akshay Dhiman, the CTO of Cloud Analogy, has been a standout and successful Salesforce Platform Developer for years. He has a rich experience in Salesforce Integration, JavaScript, APEX, VisualForce, Force.com Sites, Batch Processing, Lightning, PHP, C++, Java, NodeJs, ReactJs, Angular 8, GraphQL, React Native, Web Technology, and jQuery. Known for his problem-solving and debugging skills, Akshay is an out-of-the-box thinker and his capability to understand the business context and translate it into a working model is par excellence. Akshay would not only translate his thoughts into reality but would also bring in his own perspective that is always a tremendous value add. Akshay has the knack of taking challenges head on, equipped with In-depth industry knowledge, Resourcefulness and uncanny nag to build relationship with anyone in shortest time possible. Not only does he possesses fantastic technical depth and awareness but Akshay also complements them with a profound understanding of business functionalities, tools, and methodologies. He has the rare combination of skills and talent that one looks for in Salesforce – attention to detail and the drive for innovation."