In today's time, managing complex customer engagements requires thoughtful planning and on-point implementation project management. Successful project management can help you increase productivity and build a strong brand reputation. To achieve brand consistency throughout the customer journey, TaskRay Integration for Salesforce would be an effective solution.
Salesforce integration with TaskRay makes project management and automation easier & helps businesses onboard customers faster & more efficiently
A Short Introduction to TaskRay
TaskRay is one of the ultimate project management apps available on the Salesforce AppExchange.
Features of TaskRay
Assists businesses to onboard customers more efficiently on the Salesforce Sales Cloud. Using TaskRay's project templating & automation functions, High Tech, SaaS, Financial Services, and Manufacturing & Franchising businesses can develop scaling systems, regardless of whether they have 100 or 10,000 customers.

Out-of-the-box functionalities help you get an overview of key customer onboarding metrics with robust reporting and dashboards.

Utilizes built-in templates & automation tools to onboard customers & clients, rapidly and efficiently. 

Minimizes the customer's time to implement the solution & increase customer retention and satisfaction.

TaskRay can also work for project management & project automation in Marketing, Consulting, Back Office systems, Non-Profits, and Full-suite Project Management.
Steps to integrate TaskRay with Salesforce
Step 1: Install TaskRay Customer Onboarding for the Salesforce app that is available on the AppExchange.
This screen appears after the installation and configuration processes.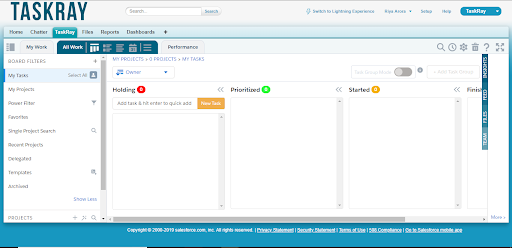 Step 2: Create a Process Builder that will be triggered as soon as the criteria are met.
Step 3: Now to test the working of the Process Builder, you need to activate it. Then create a new project on TaskRay with a Start Date less than 30 Days and select an account for which the project needs to be created.
Note: Similarly, you can create more tasks in TaskRay for that particular project in different columns.
Step 5: And this is the mail having all the information about the next meeting.
Benefits of integrating TaskRay with Salesforce
1.Allows you to keep up with all of your general project details (project information, deadlines, login information, and more).
2.Keeps tabs on the work status to manage and track activities throughout a defined workstream.
3.Allows you to determine the tasks associated with each workstream or specific project
4.Knows which tasks are pending, who owns the task, how many hours were estimated for that task to take and how many hours it actually took to finish the project.
5.Enables you to utilize built-in templates & automation tools to onboard customers & clients quickly and efficiently.
6.Helps you get an overview of key customer onboarding metrics with reporting & dashboards.
Conclusion
TaskRay is a collaborative project management tool and time management feature that links directly to Salesforce and Chatter. It also allows you to create tasks and assign them to team members all within the Salesforce CRM platform. Salesforce integration with TaskRay is designed to eliminate the duplicate data between your project management and facilitate seamless time tracking in project management.If you have any further questions related to Salesforce Integration with TaskRay or need any guidance on the Salesforce Integration process, contact Cloud Analogy, the leading Salesforce development Company, now!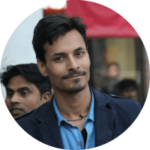 Salesforce Consultant | Solution Engineering Head
"Suraj Tripathi, a certified Salesforce Principal Consultant of repute, is a wonderful mentor and leader. A certified Salesforce Architect and a 7X Salesforce Certified Platform Application Developer by passion and profession, Suraj has rich experience in languages such as Aura, HTML, Angular, Bootstrap, APEX, and JavaScript. With more than five years of expertise in Salesforce Development, Suraj has worked on more than 50+ projects out of which 20+ projects were related to Salesforce Integration, Writing Triggers, Batch classes, VisualForce pages, and Aura Components. At Cloud Analogy, he is the backbone of a wide range of projects from all perspectives – technology, architecture, project management, customer stakeholder management, etc. His energy on the floor is difficult to match and his passion to accept nothing but excellence makes him a leader around whom a team can always rally."