Sales processes in the early 2000s were ridden with repetitive robo-dialing numbers or random drop-in visits. Old school tactics were focused on interrupting busy decision-makers, rather than approaching them at a suitable time during their buying process. 
HubSpot changed the complete marketing and sales game with a process known as inbound marketing. All of the digital marketing efforts of businesses were taken and put into one tool and leveraging, monitoring and ultimately transferring campaigns became quicker and easier.
Before moving further, let us first try to understand What is HubSpot?
HubSpot is a cloud-based software platform that helps businesses launch and control the marketing campaigns, manage the sales processes, and support the ongoing needs of customers. It's an all-inclusive system providing medium-sized businesses with the required data so as to make strategic decisions in marketing, sales, and customer service processes as per the company's vision and goals.
Highlight Features of HubSpot
Blogging
Lead Management
Marketing Automation
Analytics.
CMS
Landing Pages
Email
Social Media
SEO
Ads
Calls-to-Action
Salesforce Integration
In this article, we will specifically focus on the HubSpot and Salesforce Integration part.
Hubspot and Salesforce Integration
Quickly get set up without any technical knowledge  
It is easy getting started with the HubSpot & Salesforce integration, with no technical work required. The process for a reliable lightning-fast integration is simply a straightforward, phone-based setup process
Sending valuable lead intelligence to the sales team
Changes in one system are automatically synced to the other, thanks to the powerful bi-directional sync.Automatically send important lead intelligence like how many emails get opened, website activity, form submissions, etc. to help them close more deals. You can even send lead scores from HubSpot to Salesforce to help the sales team prioritize outreach and save time.
Close the loop between sales and marketing
Salesforce contacts or accounts details can be used for personalizing marketing emails, segmenting database, or sending emails on behalf of a lead's assigned sales rep. This can be done by exporting a list from Salesforce for kicking off a campaign or importing the response back into Salesforce from the campaign.
After the closure of leads as customers, Salesforce sends revenue data from closed-won opportunities into HubSpot; enabling specific marketing campaigns tying up to real revenue.
Requirements
The subscriptions, access and permission requirements for integrating Hubspot and Salesforce are as follows:
HubSpot Marketing/ Sales/Service Hub Account – Professional or Enterprise 

Salesforce edition with API access/Salesforce Professional.

Administrator access both in, HubSpot and Salesforce.
General Expectations
Switching back and forth between the instructions in HubSpot and Salesforce.

The number of API calls used by the integration per day is limited. 

By setting up and installing the integration in each HubSpot account,  multiple HubSpot accounts can be connected to a single Salesforce instance. 

HubSpot will work only with one Salesforce instance.
Steps
In the HubSpot account,  in the top right corner click the

account name

. Then Click

Integrations

.

Click

the

Connect an app

button.

 

Locate the Salesforce integration, using the search bar.

Hover over Salesforce. Click

View integration

. The Connector wizard will open. 

If the user wants to connect HubSpot to a Salesforce sandbox,  select the

Yes, this will connect to a sandbox

checkbox. 

Click on

Log into Salesforce

.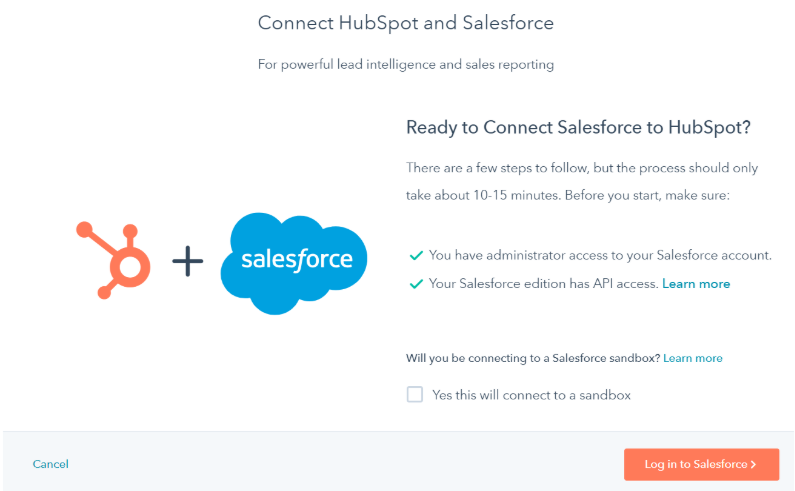 Enter the Salesforce credentials in the pop-up window. Click Log in. After logging in,  it redirects back to the connector wizard in HubSpot. 

Next, step is installing HubSpot in Salesforce. Click on Start the Salesforce package installation to begin.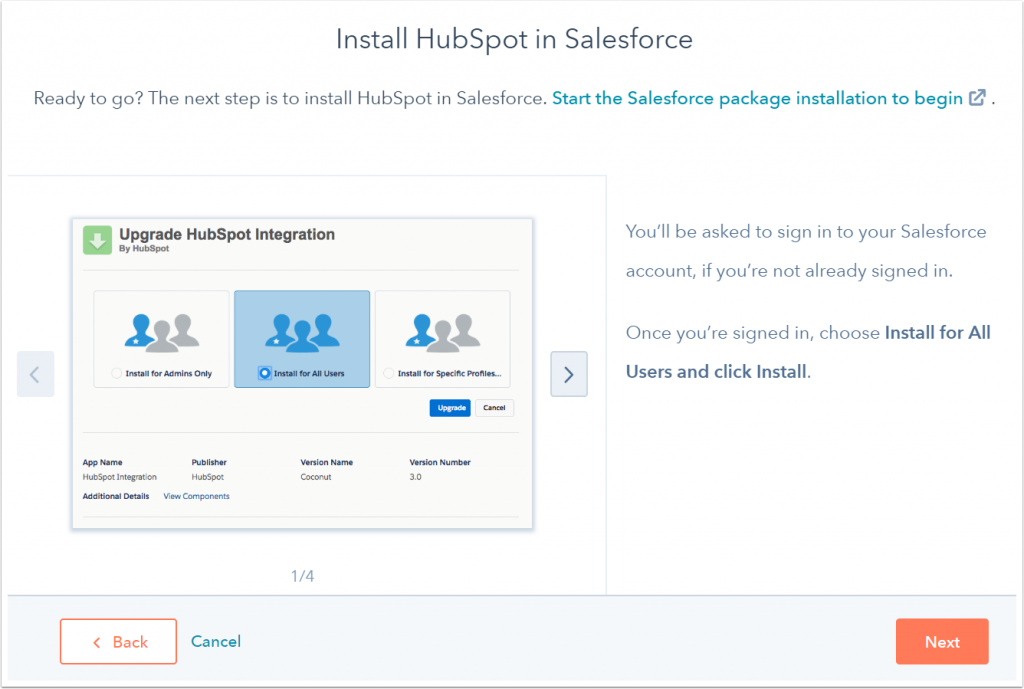 It redirects to Salesforce to install the HubSpot integration package. Select Install for All Users. Click Install. 

Select the Yes, grant access to these third-party websites checkbox in the dialog box. Click Continue.

Salesforce will then begin installing the HubSpot integration package. This installation may take some time (5-10 minutes).

Click

Done

when there is a message "This app is taking a long time to install. You will receive an email after the installation has been completed." & Wait for an email from Salesforce with the subject

Package HubSpot Integration Install Successful

will be sent.

Once the package installation has been successfully completed in Salesforce,  navigate back to the HubSpot connector wizard. Click Next. 

The next step is adding the HubSpot Visualforce module to Salesforce. Click on Add HubSpot to Salesforce
To add the HubSpot Visualforce module in Salesforce, follow the step-by-step instructions in the connector wizard.

Click

Next

.

Choose how data will be synced between HubSpot and Salesforce.

Click on

Review settings,

if the

Recommended setup

is selected.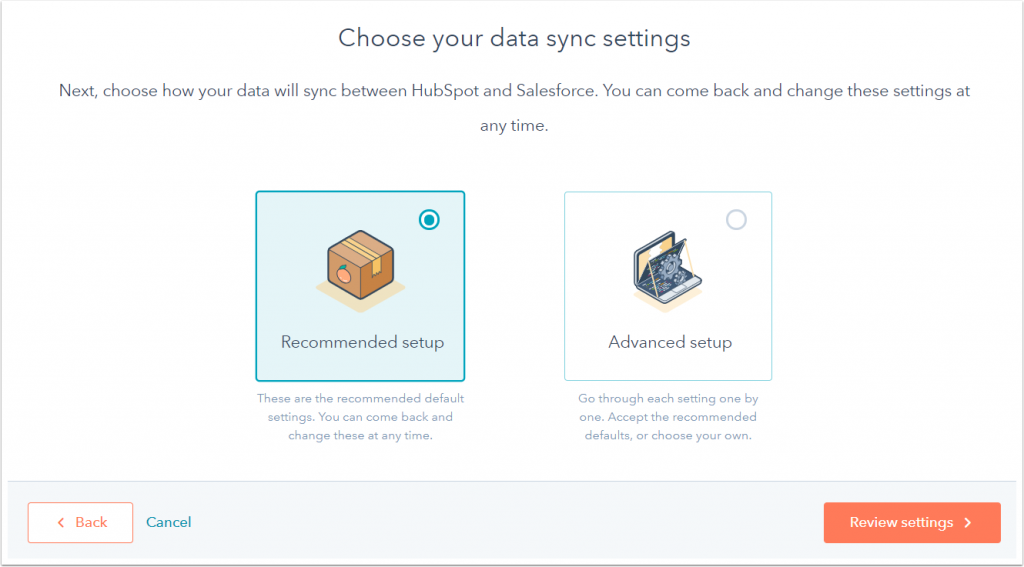 Click on

Next,

if

Advanced setup

is selected.

On the next few screens, set up the contact sync settings, activity and task sync settings, and object and property sync settings.
At last, review the selected data sync settings. Click on

Change

to change the settings for a data sync type. Finally, click on

Finish setup and begin syncing

.

It redirects to the Salesforce integration settings page. The data syncing between HubSpot and Salesforce will begin.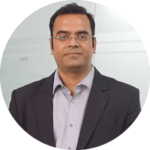 CEO | Founder
"More than 11 years of industry experience. Responsible for strategy, vision, and project delivery at Cloud Analogy."