Yes, you heard it right, Salesforce is definitely a hot topic right now. It has gained much popularity among businesses. The demand for skilled professionals is vast and is increasing day by day. Stepping into the world of Salesforce could be an excellent opportunity that can take your career to the next level. 
Salesforce offers multiple certifications that will help examine your knowledge and aptitude in the Salesforce domain. Salesforce Administrator certification is the highest form of recognition that signifies expertise and commitment to the platform.
You have to clear the certification test with a good score to become a certified administrator. The certification exam comprises of sixty questions and you will get a time span of ninety minutes to complete the test. The questions in the test will be of a multiple-choice format. For qualifying exam, you need to answer 39 questions correctly or get a minimum of 67 percent marks.
Salesforce Certified Administrator roles and responsibilities
Handle and keep track of users, data, and security

Customize and maintain Sales Cloud and Service Cloud applications

Create reports, dashboards, and workflow
As a fresher, it may be difficult to understand how to prepare and what to study.
Here is the study guide to crack the Salesforce Admin test in the first attempt.
In order to be sure that you are well prepared for your certification exam, you may consider all the available resources that include training, study materials, and hands-on experience and more for passing the exam. Let's discuss some major insights from industry experts.
Trailhead- Free Training Resource
Trailhead is one of the best places to start learning Salesforce. It is the most sophisticated online learning portal in the world and provides a number of online and instructor-led training courses that are important when preparing for admin certification. It makes it easy for users to learn about the platform interactively and let you try out new features and customizations without impacting anything. As mentioned on the first page: 
"Trailhead is a fun way to learn"
Trailhead provides the fully customized training material of 35 hour that can be accessed online through the Trailhead portal. 
A brilliant training lead by an expert can assure you that you are on the right path. It also provides you a proper plan and strategy for your preparation and learning processes that make things more easy and customized. 
ADM 201 (Administration Essentials for New Admins) – This course is proposed for beginners i.e. new administrator whose job responsibilities include setting, configuring, and maintaining the Salesforce applications. This course includes everything from the basic navigation of the applications to advance data management and automation functions.
ADM 201C (Administration Essentials for New Admins and Certification) – This course is the same as the previous one and covers all the basic administration functionalities. The difference between the both is that it includes the chance to sit for the Salesforce certification exam on the final day of course for free. 
CRT 101 (Certification Preparation for Administrator) – This course will present real-world scenarios that will help you improve your problem-solving skills and enhance your knowledge on key topics covered on the Certified Administrator exam. It will guide and prepare participants to become Salesforce administrators through different configurations and administration-based learning.
Salesforce Proficiency Pack for Administrators – This course is an expert-led training program that lasts for 30 days to learn and what you need to be an excellent Salesforce Administrator. It comprises of free vouchers for the certification exam and focuses on learning at your own pace. It is valuable for professionals who want to acquire additional knowledge.
Tips and tricks for preparing for Salesforce Admin Certifications
Emphasis more on Important topics
Focus on the topics based on their weighting percentage

Examine the latest Certification exam to get the idea of the current exam pattern

Categorize the topics into strengths and weaknesses that will give you a fair idea for which one you have to put extra efforts and you have less knowledge about them.
Give more time to yourself 
Understand that preparing for anything is not the task that can be done overnight. So, you need enough time and patience while preparing for the exam.

Consider at least one month's preparation to acquire the knowledge in different test segments.

Spend a couple of hours each day for studying and the time span will gradually increase once you found it interesting to learn.
Attempt familiar questions first
The Salesforce admin certification exam includes 60 multiple choice questions and you get 90 minutes to complete this exam.

Skip the questions for which you don't have answers, but try to attempt them after you have answered the remaining questions.

Sometimes, questions seem to look tough especially appearing for the first time. But with hard work and little preparation will always help you earn more success. Stay cool and be patient if you failed for the first time as you will get three attempts to qualify the exam.
Skills required for Qualifying the exam
Good communication skills enable you to work across all industry verticals and help in user adoption.

Ability to workflow rules, build reports, and dashboards.
Ability to analyze data and knowledge about security.

Open-minded and innovative skills help you observe things from different levels and find new ways to perform the task in an efficient way.
A Salesforce Admin certification will definitely help you kick-start your Salesforce career. Salesforce admin certification is the initial step of every higher-level Salesforce certification. You can also join a Salesforce certification course online to evaluate your knowledge on the cloud platform and clear the Salesforce Admin Certification exam.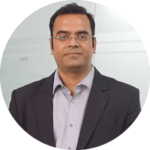 CEO | Founder
"More than 11 years of industry experience. Responsible for strategy, vision, and project delivery at Cloud Analogy."