Salesforce, the global leader in CRM, and Apple announced the launch of innovative enterprise apps – the latest trailhead GO learning Application and the redesigned Salesforce Mobile Application. These applications have been developed to assist businesses to deliver better and personalised customer experiences, with out-of-the-box functionalities and features exclusive to Apple's iOS and iPadOS.
Trailhead is a free online learning platform by Salesforce and Trailhead Go is a first-ever education mobile application for iOS and iPadOS. It gives you access anywhere, any time to over 700 modules including in-demand business and tech skills, including trails like getting started with iOS App Development and jumpstart your career as a Salesforce iOS developer or Salesforce admin. Trailhead GO features include a brand new series of micro badges and relevant content to make the most out of CRM investment with effective training for Salesforce new users and beginners.
At Dreamforce 2019, the companies also released the next-generation Salesforce Mobile SDK (Software Development Kit), which allows the developers to easily build and deploy native apps for iPhone and iPad on the Salesforce CRM platform.Bret Taylor, President, and Chief Product Officer of Salesforce remarked: "With Salesforce Mobile, Salesforce and Apple are enabling sales, service and marketing professionals to deliver game-changing customer experiences, powered by artificial intelligence." He also added: "And with Trailhead GO, millions more can now skill up for free, anytime and anywhere, to learn in-demand skills and fill the jobs of today and tomorrow."
The latest announcement was made at Salesforce's biggest tech conference of the year – Dreamforce 2019 in San Francisco. This announcement of the latest innovations is part of a deep strategic partnership between the two tech companies.
With the all-new Salesforce Mobile apps particularly for iOS and iPadOS and an enhanced SDK that supports the latest advancements in Swift, Apple together with Salesforce provides customers with a strong privacy solution, powerful multitasking and good user experience in business on iPhone and iPad. And, the next generation of Salesforce's Mobile SDK provides support for the latest developments in iOS 13, iPadOS and Swift, including Swift UI and Package Manager,  facilitating compilation and distribution of code.
Ajay Dubedi, the CEO and founder of Cloud Analogy, is shining bright at Dreamforce 2019 in San Francisco. Give us a call today at +1 (415-830-3899) or contact us at info@cloudanalogy.com to learn how the world's leading CRM provider, i.e., Salesforce makes it easier for everyone to make the right solution for digital transformation.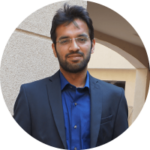 Chief Technical Officer (CTO)
"Akshay Dhiman, the CTO of Cloud Analogy, has been a standout and successful Salesforce Platform Developer for years. He has a rich experience in Salesforce Integration, JavaScript, APEX, VisualForce, Force.com Sites, Batch Processing, Lightning, PHP, C++, Java, NodeJs, ReactJs, Angular 8, GraphQL, React Native, Web Technology, and jQuery. Known for his problem-solving and debugging skills, Akshay is an out-of-the-box thinker and his capability to understand the business context and translate it into a working model is par excellence. Akshay would not only translate his thoughts into reality but would also bring in his own perspective that is always a tremendous value add. Akshay has the knack of taking challenges head on, equipped with In-depth industry knowledge, Resourcefulness and uncanny nag to build relationship with anyone in shortest time possible. Not only does he possesses fantastic technical depth and awareness but Akshay also complements them with a profound understanding of business functionalities, tools, and methodologies. He has the rare combination of skills and talent that one looks for in Salesforce – attention to detail and the drive for innovation."