In the first part of this two-part series on how to enhance your Salesforce experience on Trialforce, we read about what is Trialforce and how it can help your success-driven organization. We also read about Trial lifecycle management, best practices, and advanced topics. In this concluding Trailforce blog, we will be reading about we will talk about how to manage the generated trials and ensure that you and your customers get the best value out of them.
Try-before-you-buy services are something everyone likes and free trials provide this opportunity for your potential customers. Trialforce is a technology that allows you to offer free trials to your Salesforce AppExchange existing and potential customers. 
With Trialforce, you can configure commercial applications according to your specifications, enter relevant sample data, and even customize the appearance of your application to suit your company's brand. This way, you can reach a wider range of customers and maximize the distribution and installation of your application.
Using Trialforce, you can bundle up your entire application and send it to customers for a limited time with expiry dates through the Salesforce.com's cloud computing marketplace (AppExchange).
You can host web pages on any platform where customers can register for a free trial, and with SignupRequest API, you can even spin orgs and deliver free trials.
In this Trailforce blog, we will discuss how to deliver trial orgs to your potential customers.
Let's get started and discuss how your potential customers can find out about your trials.
Now, when you have the opportunity to provide trials or test demo of our product, you need something that is very important: your audience!
In the meantime, you need to find out who are your target customers, how they will get benefited from the trails, and how your trial process will flow from the setup to the conversion stages.
Salesforce ISV technology offers a lot of flexibility so you can give your users the opportunity to test your solution and can combine and match various approaches.
There are two types of audiences to whom you can offer your Force.com solutions:
Existing Salesforce customers.

Your own non-Salesforce customers.
For existing Salesforce customers, the easiest way is allowing Salesforce administrators to find your application on AppExchange and possibly install your product/package in their Salesforce production org or in the sandbox test environment. Note that this approach does not require TrialForce, but can be easily implemented via packaging and your AppExchange listing.
https://www.youtube.com/embed/JRWa7728zSg
While delivering your package to your existing Salesforce customer orgs, Trialforce allows you to provide a fully configured trial environment to potential customers to test your application.
Does that mean you can only publish and promote trial versions through your listing on the AppExchange? Of course not – You can also use your own website, as shown in the below image.
With Trialforce, every potential user and not just an administrator can start testing your product as soon as they click Get it Now! Click. This is a big difference for Trialforce to just install a package for a trial. Your business users can request a new testing org without waiting for their administrator to set it up for them.
Deployment options
Let's see how you can get your trial into the hands of potential customers.
There are two ways of securing orgs, depending on how much you want to manage the provisioning process. By Controller Provisioning, you can manage the trial org provisioning process and providing access to potential customers manually. Self-service provisioning, on the other hand, allows users to independently and immediately spin up trial orgs.
Self-Service Provisioning
Imagine a potential customer comes for a visit on your website or your AppExchange listing and then decides to check out your solution in a trial org. 
You can provide the prospects with a simple form to gather basic information/lead. If you have an existing platform/solution, you might want to automate the trial process to a single click because you already have all the basic information required from your customers.
How to activate self-service org provisioning?
The registration form is hosted on your site.

Set up trials on AppExchange.

Apply automatic org generation in your current applications.
Controlled provisioning
On the other hand of provisioning, if your business is sales-oriented or you want a personal demo/setup, you can change up the orgs on behalf of your clients at any time and then give them access. This will allow you to tailor the trial to each prospect's use case. This saves them from the complicated process of configuring a trial to their business. After using the trial that you set up, Controlled Provisioning allows you to see what your prospect is doing with the trial.
There is no "best" way to provision orgs. Salesforce offers you flexible technology to implement that you think is right. Might be self-service can work better for your business or product, or you might want to use both of these methods. With the available technology, you can freely apply the flexible provisioning methods of your choice. What really matters when deciding how you want to offer trial orgs to your customers is the experience you want to provide them.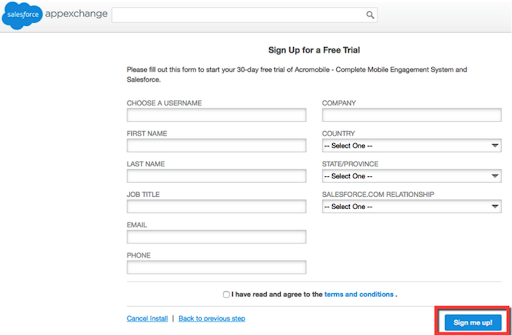 This is the easiest way to set up trials. Once you have created the Trialforce template, you can link it to your AppExchange listing via the Publisher. Customers who visit your AppExchange listing can begin provisioning themselves with a new trial org of your solution with a single click of a button.
Considerations:
Easy to set up for automated trial org provisioning.

Not customizable, no styling or branding.
Trialforce HTML Signup Form
This is an easy and user-friendly HTML form template provided by the Salesforce Partner Support team to be hosted on your website. All you have to do is fill the field "formName" value and it's good to proceed then. You can then customize it to fit the web design as per your preferences.
Considerations:
Easy to use – a single HTML form styled with CSS.

You must log a case each time the template is updated.

You have to host an HTML page somewhere.
Signup Request Object (API)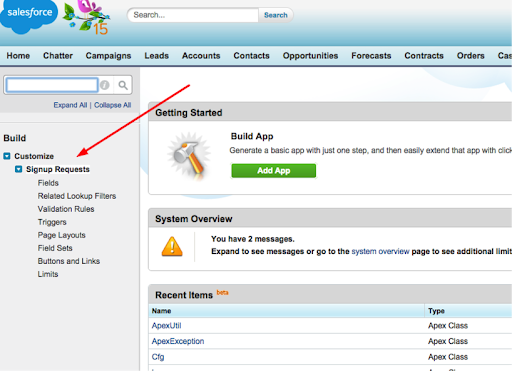 Signup Request Object is a standard object that can be enabled by the partner support team. After activation, you will see an object within your org. Inserting a new record will generate a new trial org. This object provides a lot of capabilities and functionalities to partners providing trails. You can create Apex logic on the org level to automate org creation. You can also access it from the REST API or Apex or even create web pages to support the signup process.
Consideration:
More customizable requires more implementation work (VisualForce pages, API integration, Apex class).

More visibility to signup record, status, key information.

Can be reported in Salesforce.
This is the simplest way but also the only partner-driven way to craft trial orgs. After the environment hub is activated by Partner Support, you can enter the trial template ID along with other basic information to create a new trial. These new trials will then be displayed in the Environment Hub for easy management & tracking.
Considerations:
No complicated process or manual data entry setup, no API access.

More control over the management of trial org.

You are an administrator.
Giving trials to your potential customers often requires more work and effort. Still, your team can configure and adjust the trial experience correctly.
When providing self-sign up, we recommend that you provide a short post-installation guide to help your potential customers get started. This might be a simple list of the most important features or a more detailed guide for the setup procedure.
Now when you have learned about all the ways to distribute your trials, you can proceed to implement your trial strategy. Generally, there is no right or wrong approach, but only the right approach is for your industry or use case.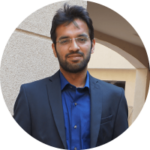 Chief Technical Officer (CTO)
"Akshay Dhiman, the CTO of Cloud Analogy, has been a standout and successful Salesforce Platform Developer for years. He has a rich experience in Salesforce Integration, JavaScript, APEX, VisualForce, Force.com Sites, Batch Processing, Lightning, PHP, C++, Java, NodeJs, ReactJs, Angular 8, GraphQL, React Native, Web Technology, and jQuery. Known for his problem-solving and debugging skills, Akshay is an out-of-the-box thinker and his capability to understand the business context and translate it into a working model is par excellence. Akshay would not only translate his thoughts into reality but would also bring in his own perspective that is always a tremendous value add. Akshay has the knack of taking challenges head on, equipped with In-depth industry knowledge, Resourcefulness and uncanny nag to build relationship with anyone in shortest time possible. Not only does he possesses fantastic technical depth and awareness but Akshay also complements them with a profound understanding of business functionalities, tools, and methodologies. He has the rare combination of skills and talent that one looks for in Salesforce – attention to detail and the drive for innovation."