Salesforce, the world's number 1 CRM Company, is expanding its horizons with  Salesforce Einstein. The CRM giant has shifted its focus to a new target audience –  Large White Sharks.
Some members of Salesforce's Einstein team have cooperated with US Santa Barbara's Benioff Ocean Initiative and adopted Artificial Intelligence. This is done with the purpose of analyzing real-time drone moving pictures to track the movement of the large white sharks near the coasts of Southern California. The smart Artificial Intelligence (AI) application will definitely help people safely share the ocean with marine wildlife.  
Today, Artificial Intelligence is becoming an integral part of our daily lives. There are several examples and applications of AI that are currently used.  Big Data and sophisticated algorithms have moved AI from research laboratories to run several innovative applications and relevant applications. Some of the latest incredible AI applications are best lead prediction for sales representatives, personalized classroom lessons, and the hurricane forecasting system for the Caribbean.
The recently released White Shark Tracker application will definitely help protect a rapidly declining population. The notable increase in the large white shark sighting near the Santa Barbara surfing area has grabbed much attention from local residents and scientists. 
Director of the Benioff Ocean Initiative and UCSB professor Douglas McCauley collaborated with Salesforce Director of Research Michael "MJ" Jones, Salesforce Chief Scientist Richard Socher and San Diego State Associate Professor of Computer Science Xiaobai Liu to discover an innovative way to point out the existence of great white sharks in the coastal waters using Salesforce Analytics & AI.
Salesforce's R&D team uses AI and leverages the Einstein Vision algorithm that is used for visual search, image recognition, product identification, and brand recognition. Using Einstein Vision Algorithm, they investigated live drone video footage to identify shark movements without marking them physically or touching the water. The project is called the 'Project SharkEye'. 
Not only is the SharkEye project one of the best use cases for AI of all time, but it has also made Salesforce helpful for the community. This action has taken technology to a place like never before.
During this project, the Salesforce AI team operated with UCSB researchers and collects videos by flying drones 10 miles from the shore. Then Einstein Vision was taught to track the white shark in the mighty blue ocean. 
Einstein Vision had to acquire a knowledge for distinguishing between shark species such as leopard sharks and large white sharks. It had to exclude non-shark objects such as a large floating piece of kelp, which might be appearing as a shark. Furthermore, the algorithm has to identify if there is a new shark in the waters or the same one pointed out before. Over the course of time, the algorithm got smarter and trained.
Salesforce also desired to help the local residents who were getting their livelihood from the ocean and the tourists.
Salesforce recently launched Field Service Lightning (FSL) mobile appliactions to field workers such as coast guards, marine biologists, and surfing instructors for onsite job management, real-time collaboration, and easy access to information. This application will involve the typical local community in the mission to track and protect the white sharks as they can make use of of all the data and information using the Lightning mobile application such as how many large white sharks were spotted and when and where. 
Interested in knowing more about these Field Service Lightning mobile applications? Join us on our latest webinar to learn all about Field Service Lightning from our certified and proficient Salesforce Consultants.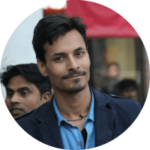 Salesforce Consultant | Solution Engineering Head
"Suraj Tripathi, a certified Salesforce Principal Consultant of repute, is a wonderful mentor and leader. A certified Salesforce Architect and a 7X Salesforce Certified Platform Application Developer by passion and profession, Suraj has rich experience in languages such as Aura, HTML, Angular, Bootstrap, APEX, and JavaScript. With more than five years of expertise in Salesforce Development, Suraj has worked on more than 50+ projects out of which 20+ projects were related to Salesforce Integration, Writing Triggers, Batch classes, VisualForce pages, and Aura Components. At Cloud Analogy, he is the backbone of a wide range of projects from all perspectives – technology, architecture, project management, customer stakeholder management, etc. His energy on the floor is difficult to match and his passion to accept nothing but excellence makes him a leader around whom a team can always rally."