In 1922, Albert Einstein was awarded the 1921 Nobel Prize in Physics for the services he provided to Theoretical Physics, and especially for discovering the law of the photoelectric effect". The man's contribution to the world of science has been immense, and is perhaps the greatest poster boy scientist of all times. But interestingly at Salesforce, Einstein has always been a much-hyped name. As a matter of fact, Salesforce has its own Einstein Analytics Suite and Sales Cloud Einstein.
Let us first address the elephant in the room! Why would Albert Einstein, a 19th century scientist be so crucial to the digital marketers of the 21st century? So the answer lies in Einstein's theories, which have a lot to do with relativity. In fact, professional marketers need an understanding of relativity as a concept when it comes to starting off an online campaign. One would know about the buyer's intent if he or she engages with the offerings at least thrice a month by opening the emails sent. What does a buyer with such signals suggest to you?
Let us shed some light on the buyer's intent data.
Marketing channels are relatively dependant more on data-driven materials in B2B circles. Taking advantage of the buyer, intent data is currently a much-hyped notion. Any email marketing service provider would know the importance of buyer – intent data and the potential it holds.
Basically, there are three key theories upon which digital engagement by B2B consumers is based.
Behavior Scoring
Lead Scoring
Campaign Insights
THEORY 1: EINSTEIN BEHAVIOR SCORING
Based on their digital engagement, Identify which leads are most likely to buy.
With the use of machine learning and automated processes, vendors learn about the informative points of the buyers. Behavioral pattern of buying connect the dots for their clients by finding indicative leads. Based on such leads, marketers can improve sales funnels. A score ranging from a scale of 0 to 100 is maintained wherein 100 indicates that the buyer is ready to buy.
The algorithm factors in all activity from past 365 days, including behavioral signals like email opening and page viewing in addition with time decay in case of a potential losing/lessening of interest.
Einstein Behavior Score is an easy way for prioritizing hottest leads. With more and more leads moving through the sales funnel, this algorithm continues to evolve and ultimately converting opportunities to Closed/Won or Closed/Lost.
THEORY 2: EINSTEIN LEAD SCORING
AI can indicate how well leads fit a company's successful conversion patterns.
First of all, it is very crucial to understand that there is a very thin line that distances Einstein Lead Scoring from Einstein Behavior Scoring.
While Einstein Behavior Scoring looks at all the prospects individually for determining how likely they are to become a customer, Einstein Lead Scoring tells what type of prospect is most likely to convert. Einstein Lead Scoring is more of a "best fit" indicator determining how interested Sales should be in each prospect
THEORY 3: EINSTEIN CAMPAIGN INSIGHTS
Real-time insights to Marketers on what's working and why.
Einstein Campaign Insights analyzes all of the past campaigns and makes use of derived data to provide real-time insights on the current campaigns. The derived data included data related to activity, engagement, content, and audience characteristics.
Data-driven marketer often look back each quarter as well as at the year end, ultimately to check the effectiveness of the campaign and diagnose areas of improvement.
Einstein Campaign Insights does this, while campaigns are still running so that they can be optimized on the fly. These powerful insights allow maximizing on top performing campaigns, improving low-performing campaigns, and identifying new audiences for future campaigns.
Eventually, marketers are interested only in sureshot leads that are going to convert. Previous promotional activity-related data is stored by each company on email communications to discern the parameters for the next campaign. The insights on how the audiences behave and other characteristics are provided by email marketing experts. Further, promotions on the email can be improved and optimized. AI is likely to improve the ways marketers utilize messages and communications for extending reach to their buyers.
On a concluding note, online reaching to be precise is the need of the hour the buyers or potential buyers, is the need of the hour with the increasing penetration of the internet.
In this cutthroat competitive era, sometimes it is the sales team that clamors for better, hotter, and more leads, or sometimes it is the marketing minds of the company looking for deeper campaign insights to get the most out of their marketing budget. Whatever the need might be, companies can surely opt for AI and let Einstein do the heavy lifting on their behalf.
A marketer is often grappling with classic buying signals including everything from third-party data from a slew of new vendors to a Vice President of Sales who is sure of the fact that anyone registering for the upcoming trade show is bound to convert, sooner or later. As a cutting-edge marketer, Einstein could be your answer to maintain your sanity and cut through the noise to find the hottest, most qualified leads.
              'If you're a data-driven marketer then with Einstein, your job just got a lot easier.'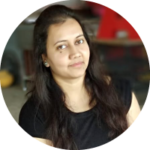 Salesforce Certified Developer | Delivery Management Head
"Deepali, a certified Salesforce Advanced Administrator and Salesforce Developer and CSPO Certified at Cloud Analogy, is a successful name in the industry circles when it comes to the delivery of successful projects with end-to-end testing. Deepali is a globally-renowned industry stalwart when it comes to managing Operations & Delivery Planning in driving Business Performance Management. Over the years, she has also demonstrated great leadership qualities in the context of Organizational Development & Change Management / Transformation, Delivery Planning & Management, Resource & technology pool management, and driving end-to-end Business Process Excellence and Organizational Transformation. Deepali is the Women-In-Tech (WIT) leader, Faridabad Region of Salesforce apart from being an active leader in a wide range of other socio-economic activities and events."