No one can calculate the exponential rate of change in how technology is transforming the world today. Tech experts and professionals around the globe craft something new, advanced, and innovative every second that helps IT organizations acquire new techniques and ways of getting things done easily and efficiently.
Continuous growth in technology paves the way for higher growth of business and economy. Economic growth can be utilized to create more employment opportunities with the highest-paid salaries and high employee satisfaction. This revolution of innovative technologies encourages IT professionals to realize the importance of professional development and be competent in their profession.
It is necessary to keep your eyes on technology trends to work in any industry for upgrading your skills constantly to stay ahead in your career. Having a deep understanding and enough practical knowledge about the tech domain will help you grab the right opportunity.
Now moving on to our blog post topic about the recently introduced changes in the Salesforce AppExchange. The #1 CRM provider of the world introduced new features for customers and app vendors that would help in growing their business to a higher level of success. The advanced features will help both partners and customers navigate more seamlessly within the Salesforce AppExchange marketplace.
Get yourself familiar with the new exciting features in the AppExchange and keep moving forward with your Salesforce career.
But, before discussing the advanced features, let's have a look at the brief introduction of the Salesforce AppExchange.
What is Salesforce AppExchange?
Salesforce AppExchange is a cloud computing marketplace that enables users to publish or install apps they have built on the Salesforce platform. Some applications are built by Salesforce developers and on the other hand, some are created by third-party, independent software vendors using the Salesforce Lightning Platform. In AppExchange, all the apps published are available for users, either free or at a nominal cost.
Benefits of using Salesforce AppExchange Products
You don't need to build any app functionality from scratch. Just download and implement secure pre-built solutions that are already tested by other users.

You don't have to invest in app development and maintenance, as paid apps are often modified and enhanced by their publishers.
You just have to search for a published app based on your requirements and implement it.
Insights and data are the two most essential parts of every business. That's why delivering your customers with data-driven AppExchange experience helps them make better and right business decisions.
Let's now dive deeper into the Salesforce journey of growth and innovation with the launch of new products in the AppExchange online marketplace.
Consultant on AppExchange

– Find a Consultant whose skills match your business requirements.

New Analytical tools

– Deeper insights into how the users are engaging with the apps and listings.
The new features are all about "helping make everyone on the system a little smarter", as quoted by Woodson Martin, the GM of AppExchange.
Easily find the consultant that matches your business needs
With the latest feature – "Consultant on AppExchange", customers can easily find the right consultant based on their preferred location, company size, set, product expertise, and industry objectives.
They can also narrow their search by viewing the ratings of consultant and language preferences. Furthermore, customers can utilize the new Expertise Tab to explore the areas of expertise. The Consultant finder, consultant listing, and expertise tab are live on the Salesforce AppExchange marketplace.
Filtering
On the Consultants page, customers can use filters such as Salesforce expertise, industry experts, and certified professionals by product specialization, company location, and size of the company for searching the best consultant that fits their requirements
Consultant Finder
With the consultant page, a guided search engine i.e. Consultant Finder assists you by searching a consultant by answering a few questions.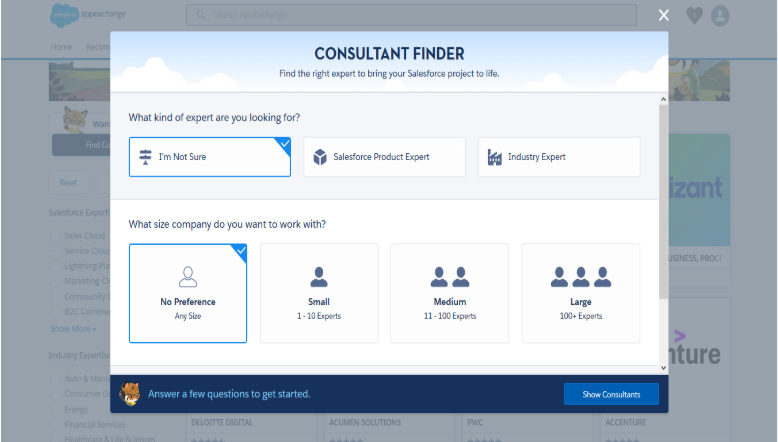 Consultant Listing
Once your search about finding an appropriate consultant is completed, you can go through the Listing Page to read more about it. Consultant listings consist of an introduction of their business, related images, and content as well as the consultant's contact information.
New Analytics tools for app vendors for better performance
The AppExchange Marketplace delivers deeper insights to Salesforce consultants into how customers interact with their AppExchange listings. To deliver a great customer experience, partners require data, flexibility, and insights. In order to generate best and robust solutions, they need to understand the following points:
From where the traffic is coming to their listings?

How many users at the client base have installed and are using their applications?

What are the new features that are being used and what is the level of such use (less or more)?

Analysis of user behavior within the applications.

What search keywords are being used by their customers?

The journey and conversion from potential customers to actual customers.
New analytics tools available on the AppExchange will help users get a better understanding of what the customers are searching for and help the company improve its offerings. The AppExchange App Analytics will be available for vendors in June 2019 and beyond.
With the latest products and functionalities on the Salesforce AppExchange, a Consultant Finder will make it easier for customers to find the best experts for their business projects as per their needs. It is a big win for all the AppExchange users to find solutions, tools, and resources quickly for taking their business to the next level of excellence.
Cloud Analogy- Your trustworthy Salesforce partner
Cloud Analogy is a Salesforce consulting and development company and AppExchange partner that takes great pride to deliver high-quality Salesforce services and solutions across the world (India, UK, USA, and Australia).
Our AppExchange applications: Pin Tags, Task and Notes, Drag n Drop, and Multi-utility are widely used by different organizations, irrespective of their level of operations or size of business.
Our certified and expert teams strive hard and work passionately to deliver you best, powerful, and customized solutions and services on different Salesforce platforms (Sales Cloud, Service Cloud, Marketing Cloud, Community Cloud, and Commerce Cloud). Cloud Analogy serves its customers best and good as we offer a combination of quality and affordable Salesforce services.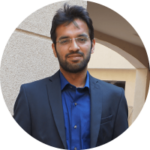 Chief Technical Officer (CTO)
"Extensive experience in System Architecture, Project Management, and Delivery."