Today's world is indeed a technology-driven world. Despite this, real relationships and human-to-human interaction have an indispensable role in the success of businesses across the world. Customers love to interact with the brands they support, employees want to feel like team members, and business leaders wish to engage with the world. Today, it is all about making the right connections.
Salesforce Communities are highly useful for employees, customers and partners to connect in one single place. Communities can be created and customized as per the requirement. Salesforce communities are productive ecosystems inside a Salesforce organization. They are easy to build with Salesforce's intuitive tools and templates.
The concept of Salesforce Communities was released in Summer' 13 release.
People outside of the company who are key to business can be collaborated and communicated with. One can easily communicate with internal and external users.
Multiple communities can be created in an organization. For example, one community can be created for partner support and another community for customer support. Likewise, based on business needs, multiple communities can be created.
Salesforce Communities are useful to:
Maximize sales by connecting employees with distributors, suppliers, and resellers. 

Deliver world-class service by providing customers one place to get the resolution to their queries.

Manage social listening, content engagement, and workflow everything in one single place.
How to enable community in Salesforce?
To enable community in Salesforce go to setup -> Build -> Customize -> Communities. Click on settings. and check the enable communities' checkbox and enter & save domain name.
Note: Domain name cannot be changed once saved. This domain name will be used in all of the communities.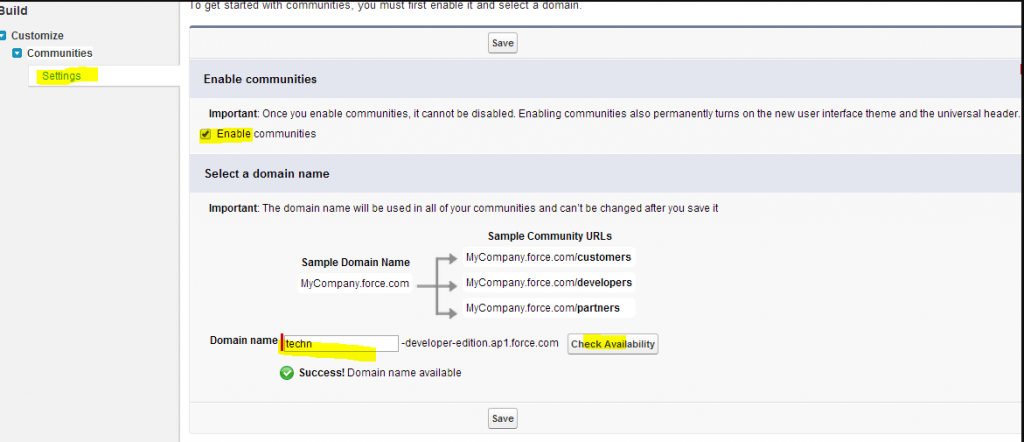 New header will be enabled in the Salesforce org, once communities are enabled, one can then swipe between multiple communities.

Now communities are enabled. Let us learn how to create communities.
How to create communities in Salesforce?
To create communities go to setup -> Build -> Customize -> Communities -> Manage Communities -> & click on New communities' button . Enter name, description and URL and click on create button.
How to manage communities?
Once a community is created, it is only visible to administrators until it is published or the URL is shared.

Click the EDIT button to manage the created community.
To add members to the community, Members is used.
Tabs & pages button manages the tabs that are available to the community and 
home page overriding with the VisualForce page.
Branding button is used for adding header, footer and for changing colors.
Login Page button is used for adding a logo to the community and also login options for external users can be defined.
Email button is used for specifying sender email notifications, chattering email branding & email templates.
The miscellaneous button is used to flag content, enable private messages and knowledgeable people on topics. After all the community settings are defined, the community can be published.
How to add members to the Salesforce Communities?
Based on the profiles and permission sets we can add members to the Salesforce communities.
For adding members to Salesforce communities, go to Setup -> Build -> customize -> Community -> manage community -> & edit your community and click on Members. Add profiles or permission sets whose access is to be given to the community.
In a nutshell, organizations can build a community to cater to a large number of needs but in Salesforce, there are 3 main community types:
Customer communities

Employee communities

Partner communities
These communities are a powerful part of the Salesforce ecosystem with nearly endless possibilities —from patient portals to government services portals to higher education student portals. A community, irrespective of its type, can boost a business in 3 ways:
1: Enhancing Brand Experience
Portals built using Salesforce Community Cloud could be customized to reflect the brand's look. It serves as an extension of the brand's online presence. Offering an interactive, engaging experience to customers, employees, or partners boosts satisfaction and can enhance the overall brand image. Plus, discovering pain points or areas for brand improvement becomes easy, just by monitoring questions or discussions in the community.
2: Empowering Users
Communities are intelligent spaces where users seek out the needed information on their own. Customers can easily search the knowledge base, access FAQs or pose questions to other community members. Employees can review company announcements at their personal comfort. For Partners, they can access critical data or register leads on the go. 
Salesforce communities are an innovative solution to build a powerful, branded experience where every user can connect and collaborate,
3: Fostering a Culture of Collaboration
Collaborative nature is perhaps the biggest advantage of Salesforce communities. Irrespective of location, it is possible for users to connect and work together in real-time. Customers can answer each other's questions and solve problems collaborating as teams. Employees can easily share expertise and files or collaborate on content. Anyone from anywhere can contribute ideas and insights. 
To encourage collaboration, Community Managers can reward customizable badges and incentives to active community participants as well as enable users to endorse each other for specific skill sets.
Doing business the right way is all about making the right connections and maintaining them forever to stay profitable for every revenue-driven organization. The best thing is that this is not a complicated task as Salesforce Communities helps you stay connected with vendors, employees, and customers. Redefine the processes and performance of your organization now with Salesforce Communities.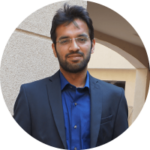 Chief Technical Officer (CTO)
"Extensive experience in System Architecture, Project Management, and Delivery."